QTJ4-25 automatic concrete solid hollow block making production line machine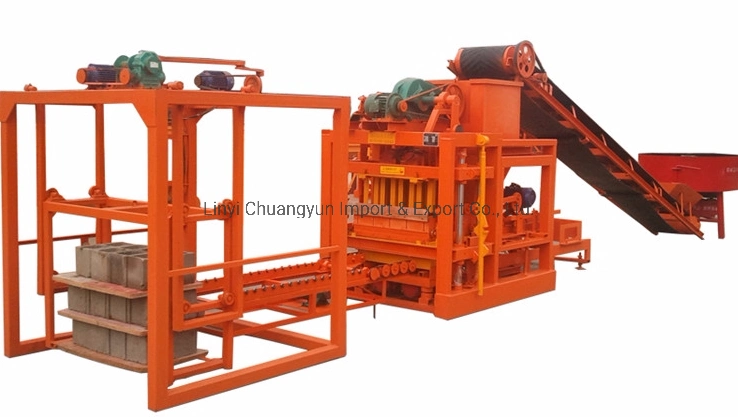 1. Advantages:1. Automatic PLC Opeation, Reduce Lobor Cost
2. Produce sizes of hollow block, solid brick, hourdis, interlocking paver and curbstone by changing molds
3. Small Investment, Big Capacity
4. Suitable For Medium and Small-Scale Block Factory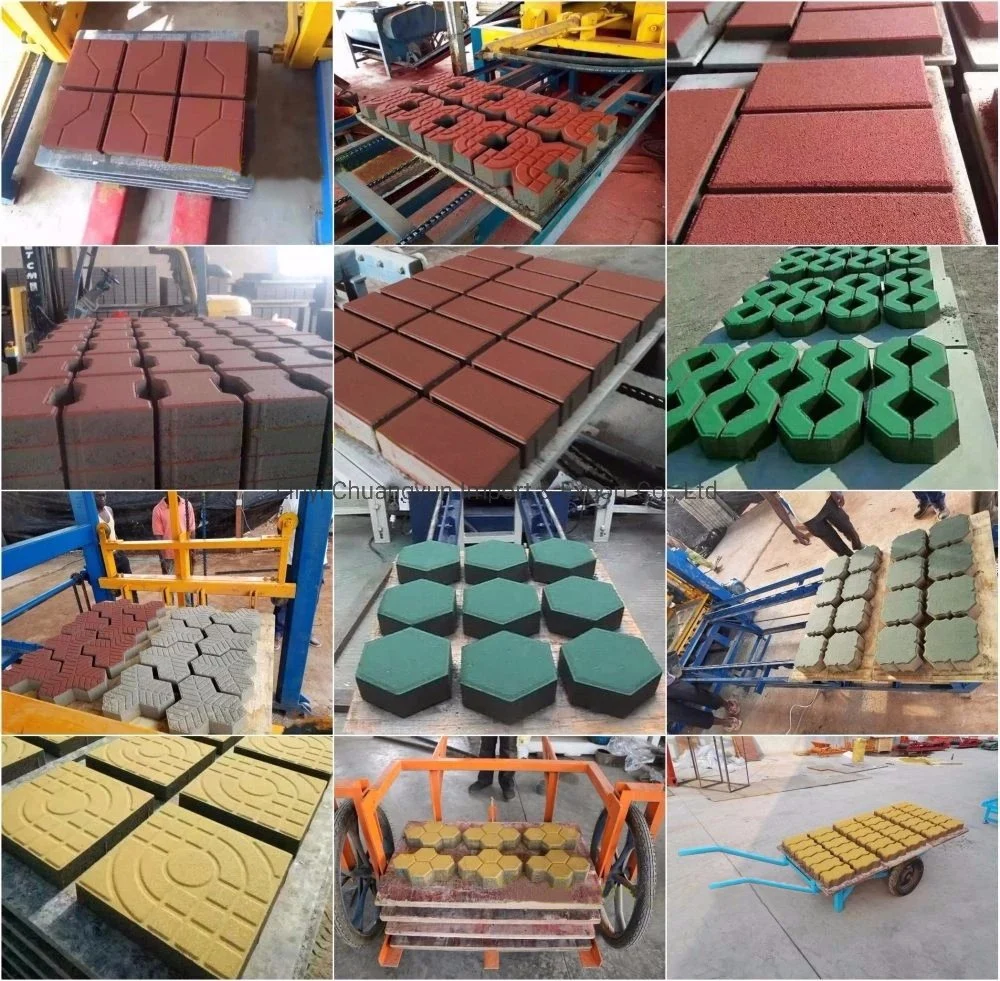 2. Production Capacity of QT4-25 automatic vibrated cement concrete block brick making machine
QT4-25 automatic vibrated cement concrete block brick making machine can produce sizes of hollow blocks, solid bricks, hourdis, interlocking pavers and curbstone by changing molds.
The following are produciton capacity for some popular sizes of block and pavers.
No.
Block Sizes
Production Capacity
1
400*200*200mm
Hollow /Solid Block
4 Blocks in one time
4608 Blocks in 8 hours
2
400*150*200mm
Hollow /Solid Block
5 Blocks in one time
5760 Blocks in 8 hours
3
400*100*200mm
Hollow /Solid Block
7 Blocks in one time
8064 Blocks in 8 hours
4
500*120*200mm
Hourdis Block
6 Hourdis in one time
6912 Hourdis in 8 hours
5
200*100*60/80mm
Holland Paver
14 Pavers in one time
16128 Pavers in 8 hours
6
200*160*60/80mm
I Shaped Paver
8 Pavers in one time
9216 Pavers in 8 hours
7
225*112.5*60/80mm
S shaped Paver
12 Pavers in one time
13824 Pavers in 8 hours
Contact us for some designs of block and pavers for your reference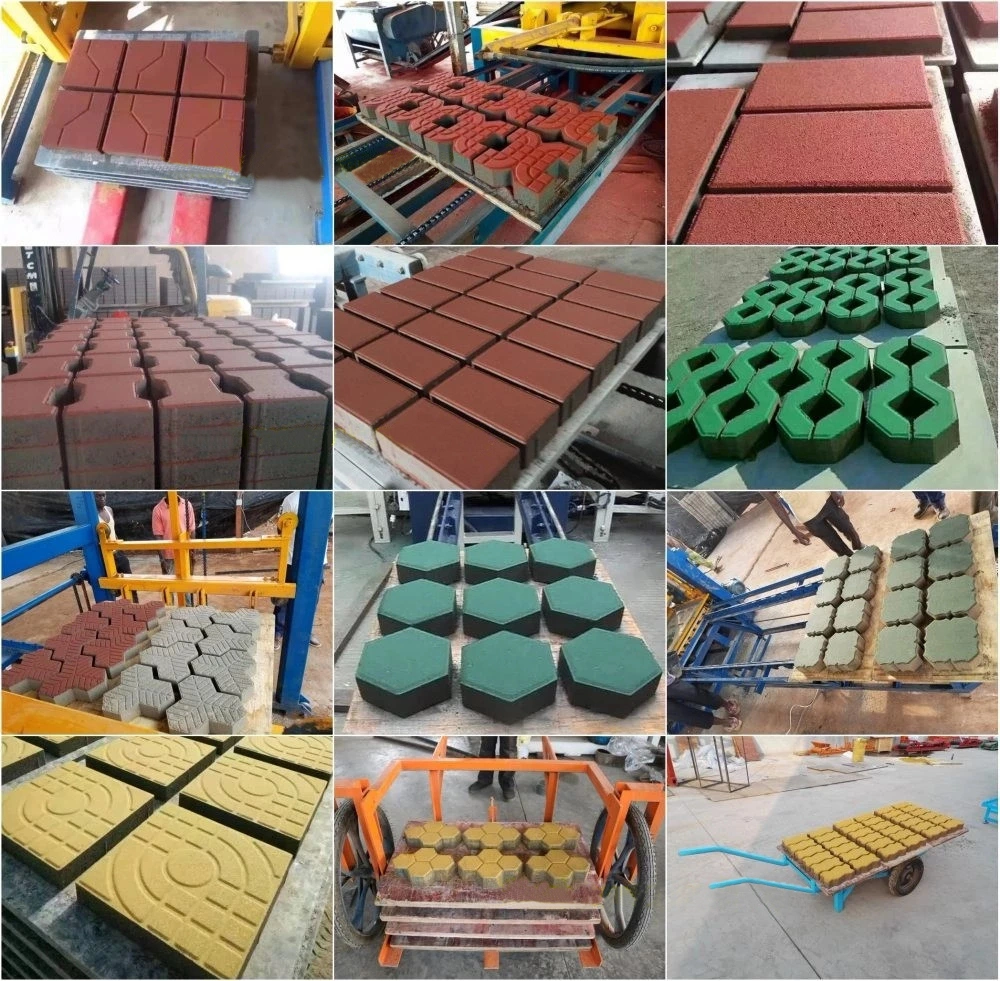 3. Producion Description of QT4-25 automatic vibrated cement concrete block brick making machine
A: Electric Power List of QT4-25 automatic block making Line
No.
Description
Power
Function
A
JQ500 Mixer
7.5KW
500L Capacity, Mixing Raw material ( cement, sand, stone, water)
B
Belt Conveyor
0.75KW
6M Length, Carry Mixed material from Mixer to Block Machine
C
Block Machine
18.6KW
Produce sizes of blocks and pavers
D
Control Cabinet
Without
Control Block Block
E
Automatic Stacker
1.5KWt
Automaticlly Stacking fresh block with 3-4 pallets
Barrows
Without
Carry fresh block to curing sites
Note: total power is 28.35KW, Electricity must be 3 phase, 50/60HZ, 220/380/440V
B:Photos and Working Video of QT4-24 concrete block making machine are available
C: Worker Numbers : 5-6 Workers
Two Workers to load material into mixer
One Worker to operate block machine
One Worker to load pallet into pallet box of block machine
One or Two Workers to carry fresh blocks to curing sites.
D: Factory Area for QT4-25 brick making line: 1000-1500M2
Shelter for Machines: 60M2 (6*10mm)
E: Pallet Number: 1000pcs pallet for QT4-25 concrete block making line.
We supply bamboo pallet, fiber (GMT) pallet and PVC pallet. According to Experiences and Feedback of our customers, we recommend you the Fiber Pallet: