1.company profile:
Established in October 1998, Shandong SUNITE MachineryCo.,Ltd has a registered more than capital of RMB 10 million and employs more than 500 staff including 6 senior engineers and 28 intermediate engineers.the factory account for an area of 130,000square meter.It is the first professional manufacturer specialized in the manufacturing aac block equipment,aac panel production line,steam-cured and autoclaved brick equipment.
With the full implementatiuon of ISO9001:2008 international quality managment system,we successively has not only pased the ISO 9901 and BV international certification, but also CE certification . the company won the title of Chinese Top Brand and China High Quality Well-Known Products in 2013,also has get product patent award many times.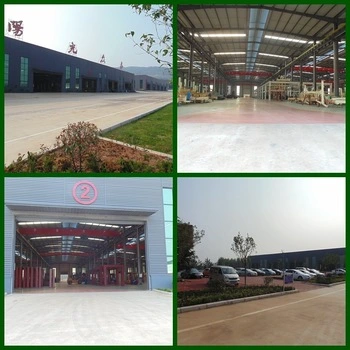 2.AAC block advantages:
1.Improved thermal efficiency reduces the heating and cooling load in buildings.
2.Porous structure allows for superior fire resistance.
3.Workability allows accurate cutting, which minimizes the generation of solid waste during use.
4.Resource efficiency gives it lower environmental impact in all phases of its life cycle, from processing of raw materials to the disposal of waste.
5.Light weight saves cost & energy in transportation, labor expenses, and increases chances of survival during seismic activity.
6.Environmentally Friendly: When used, it helps to reduce at least 30% of environmental waste as opposed to going with traditional concrete. There is a decrease of 50% of greenhouse gas emissions. When possible, using autoclaved aerated concrete is a better choice for the environment.
7.Energy Saver: It is an excellent property that makes it an excellent insulator and that means the interior environment is easier to maintain. When it is used, there is usually not a need for any supplementary insulation
Fly ash style aerated block raw material
Sand style aerated block raw material
Parameter Name
Parameter Value
Parameter Name
Parameter Value
Fly ash
65-70%
Sand
55-65%
cement
6-15%
cement
10-20%
Lime
18-25%
Lime
20-30%
Gypsum
3-5%
Gypsum
2-3%
Aluminum powder paste
8
Aluminum powder paste
8
Water & material rate
0.60-0.65
Water & material rate
0.65-0.75
Casting temperature
36-40°C
Casting temperature
35-38°C
Aluminum mixing time
30-40s
Aluminum mixing time
30-40s
3.Main Process Flow of AAC Production line/AAC block:
1. Raw material: Store the fly-ash (tailings etc), lime and gypsum after milling into the needed fineness (200 mesh)
2. Mixing the fly-ash, cement, lime, gypsum and water in the pot after batching.
3. Increase the slurry temperature to 40-50 centigrade by steam, and mill with aluminum powder for 1min.
4. Pour the slurry into the mould, and still in the curing room for frothing in 2-2.5h.
5. Cut it into needed size by the cutter after the slurry reach the cutting intensity, and place the block on the trolley cart.
6. Autoclaved curing after the trolley cart enter the autoclave (vacuum, raise the pressure, keep the pressure, reduce the pressure),keeping the constant pressure 1.2MPa. The whole process needs about 8 hours.
7. The products out of the autoclave are placed in a stack. We can recycle the scrap and the waste water from the whole production.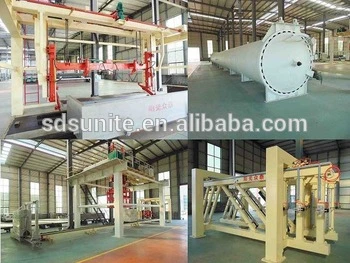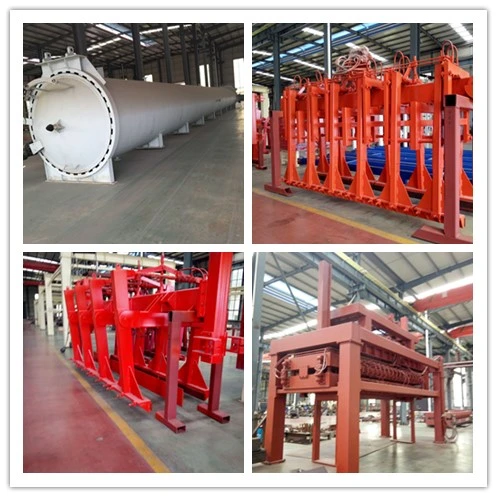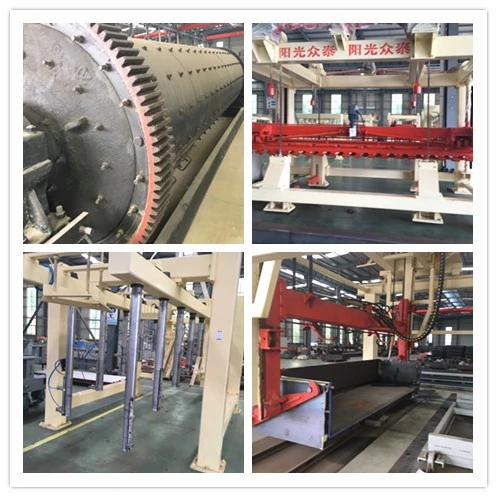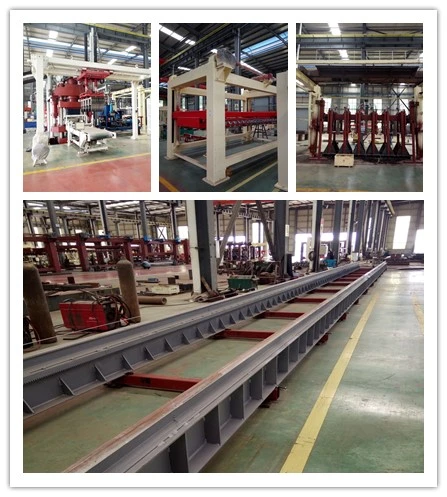 4.Exhibition and Client: