Product Description
Shandong Top Building Materials Co.,Ltd

gypsum board
using high quality
pure natural
gypsum and high
strength
protective paper
and other
harmful additives,
the production equipment is from German
.
From
China
With
German quality.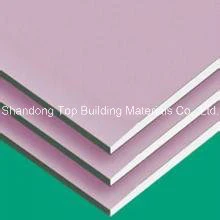 Scope of application
: bedroom, Home,Shop,Supermarket schools, hospitals and other ceiling and drywall.
Features:
green environmental protection, convenient construction, space saving, comfortable living.
Convenient construction
Gypsum board with performance can be nailed, planed, sawing, sticky, for the city decoration, can obtain the ideal decoration, only a paper knife can be cut on gypsum board, the construction is convenient, use it as a decoration materials to improve the construction efficiency can be greatly.
Save space
The gypsum board wall materials, can save the wall area, increase the space utilization rate. Gypsum board for interior wall is also convenient for indoor pipeline laying and maintenance.
A comfortable living
Gypsum board with large porosity and pore distribution, high permeability. When the indoor humidity is high, which can absorb moisture, and when the air is dry, but also released a part of the water, and thus to regulate the indoor humidity, it is because of gypsum board has unique "breathing" function, can adjust indoor humidity in a certain range, so that the living conditions more comfortable.
Specification:.
Common sizes




(Length*Width)

1200mm×2400mm, 1220mm×2440mm (4ft*8ft), 1200mm×3000mm

Type

Standard gypsum board

,

Fireproof gypsum board

,

Waterproof gypsum board

Other sizes




(Length*Width)

1200mm×2000mm, 1200mm×2500mm, 1200mm×2700

Thickness

7mm,7.5mm,8mm,8.5mm, 9mm, 9.5mm, 10mm, 12mm, 12.5mm,15.9mm.

Edge

Tapered edge / Standard (Square) edge

Packing

Every two pieces face to face are packed with sealing paper.

MOQ

One 20ft containers / Two 20ft containers for special (uncommon) size